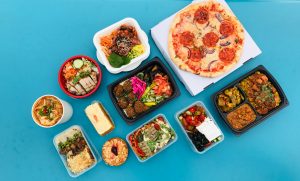 The introduction of takeaway and delivery options proved a lifeline for many restaurant operators during the lockdown, and seems to have become a permanent change in customer expectations.
Industry analyst CGA reports that delivery sales from managed restaurant and pub groups in April 2022 were 357% higher than in the same month three years ago. Takeaway and click-and-collect sales have also increased over the last three years, though by a more modest 26%.
Combined sales of deliveries and takeaways accounted for around 24 pence in every pound spent with the managed groups participating in the CGA Tracker, and there will be some independents for whom the proportion is higher.
While many restaurant operators would rather welcome customers onto the premises   where they can add value through their service style, a significant number of consumers have clearly decided that, at least at certain times of week or on certain occasions, they want to eat restaurant meals at home.
Every operator needs to decide if takeaway and delivery are right for their business. Things to consider include:
Is offering a takeaway and delivery service right for my business? There are specific reasons why delivery, and even takeaway, aren't going to work for some operators. This might include where dishes have to be served freshly cooked, if presentation is key, if the 'theatre' of the serve – such as a flaming wok or hot rock, are integral, or simply if the restaurant has a premium position that could be undermined.
Which dishes should I offer as takeaway dishes? It might make sense to offer a limited menu for delivery and takeaway rather than the full choice. This not only keeps some dishes 'special', but enables operators to focus on dishes that are robust enough to survive the delivery process. Burgers, grills, roasts and barbecue meals are amongst those that work well as delivery options. Our specialist butchers and sales team can advise on how to cook and package premium meat safely for delivery.
Make it modular: Rather than plate up a full meal, it makes sense to put the meat or other main protein, veg, and sauces or gravy, into separate containers for delivery. This should mean that the food arrives in good condition. Where you can, use sustainable and recyclable packaging, but robustness is customers first concern – the containers you use need to be fit for purpose.
Upsell where you can: Ensure that extras such as desserts and drinks are clearly visible on online and app-based menus. The additional revenue from these add-ons can help cover the additional costs and commission associated with delivery.
Check regularly: Whether delivery and takeaway orders arrive by email, text or printer, assign specific staff to monitor duty, so that no orders are delayed or missed.
How far should I go? Time rather than distance is the main factor affecting the quality of food – the longer it takes to get to the customer, the less likely it is to enhance your restaurant's reputation. Set delivery areas that will allow dishes to get to the customer in a reasonable time.
Test everything: Cook, package and transport every dish yourself before entrusting it to the tender mercies of a delivery app driver. Your hard-earned reputation is at risk if the food quality or packaging isn't up to the rigours of delivery.
Takeaway and delivery is an opportunity, but it also adds new levels of complexity to a menu, so careful planning is needed. Our specialists can provide advice on the best cuts and products for takeaway menus, as well as recipe ideas.  Contact our team