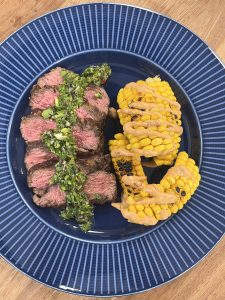 Prep time: 15 to 20 minutes. Cook time: Dependant on steak and how it is required. Servings:  1 portion
Ingredients
x 1 200g Bavette steak
100g Banana shallots
10g Peeled garlic
50g Oregano
50g Flat parsley
50g Coriander
30ml Red wine vinegar
1g Sea salt
1g Whole black peppercorn
20g Green jalapeño peppers
200g Crushed chillies
40ml Chipotle mayonnaise
x 1 Lemon
140ml Pure olive oil
200g Sweetcorn cob
Method
1. Remove the steak from packaging and allow to breath.
2. Cook to your liking and set to one side.
3. Finely dice garlic and shallots and set to one side in a mixing bowl.
4. In a blender add oregano, parsley, coriander, red wine vinegar, sea salt, cracked black pepper, chopped jalapeño and crushed chillie, blend until chopped then add to the shallot mix and drizzle in olive oil – set to one side.
5. Cut the corn into 1/4s then quickly steam and chargrill , tumble with seasoning and serve with the chipotle mayonnaise and lemon wedges.