Grilled Lamb Cutlets, Scorched Red Pepper & Sunflower Seed Muhammara, Feta, Burnt Aubergine Salad, Za'tar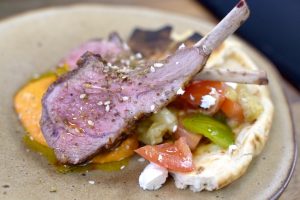 Serves 4
Burnt aubergine salad
2 Each Aubergine Black
30ml Sherry Vinegar
5g Casa De Mare Sea Salt
200g Heritage Tomato France
30ml Cold Pressed Rapeseed Oil
1. Blacken the aubergine until cooked and then peel and dice the flesh.
2. Add the sherry vinegar and salt then add diced tomato and oil – Stir together and set to one side.
Muhumara
2 Each Red Peppers
60g Curtis Sunflower Seeds
6g Casa De Mare Sea Salt
10g White Garlic String
50g Ciabatta Loaf
2g World of Spice Cumin Seeds
100ml Cold Pressed Rapeseed Oil
1. Place the red peppers over coals or blow torch until blackened – Place into a bowl and cover until cooled slightly then scrape and de-seed.
2. Toast the sunflower seeds, cumin and garlic then add to the peppers.
3. Place all the ingredients into a food processor and blend until smooth.
4. Chill until required.
Lamb cutlets
4 Two Bone Lamb Rack – French Trim
6g Sea Salt
1g Cracked Black Pepper
20ml Cold Pressed Rapeseed Oil
200g Muhammara
200g Burnt Aubergine Salad
80g Crumbled Feta
6g Za'tar
4 Small Flat Breads – Freshly Made
10g Mixed Herbs
1. Season the lamb with salt & pepper and rub with oil.
2. Cook on the BBQ or grill for 12-15 minutes and leave to rest.
3. Serve with the Muhammara, burnt aubergine salad, crumbled feta, za'tar, flatbreads and mixed herbs – Drizzle with oil