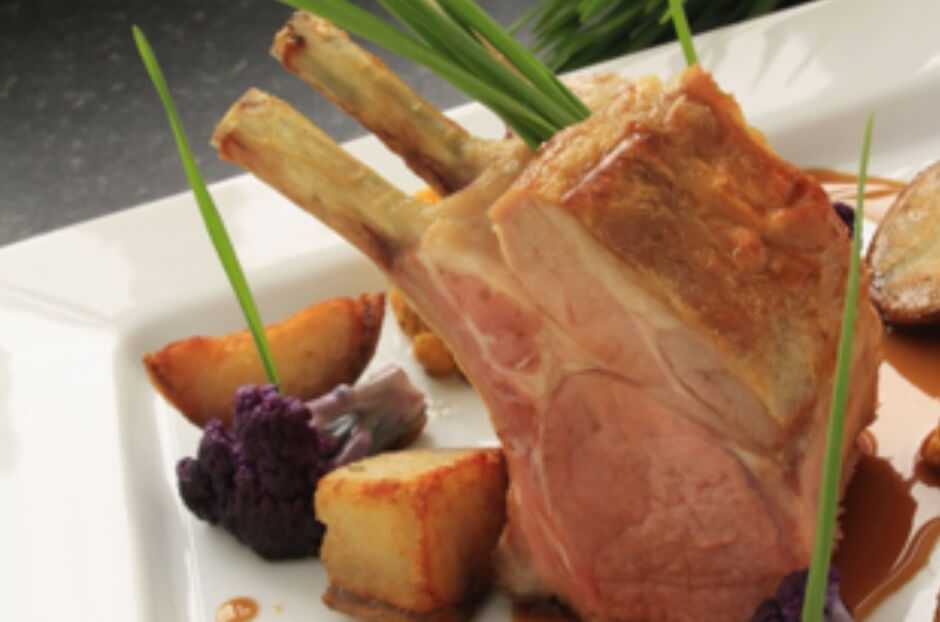 Scottish lamb is full of flavour. In this dish it is served with coloured cauliflower, confit then roasted Shetland black potatoes, and wheatgrass that sings of colourful produce from the field! A great flavoursome dish for restaurants focussing on quality ingredients and provenance.
Prep & cooking time: 2 hours 20 mins   Serves: 4 people
Ingredients
4 racks of lamb
1 purple cauliflower, 1 yellow cauliflower cut into florets
250g Shetland black potatoes
1 punnet of Wheat grass
3K lamb bones
3 onions sliced
3 carrots, peeled and sliced
2 star anise
250g diced lamb shoulder
Method
Fry the bones in a large frying pan till brown on both sides, remove them in to a pressure cooker,
Fry the lamb shoulder in the same pan until golden brown and put in to the pressure cooker also
Fry the carrots until they are caramelised slightly and add these to the bones, then fry the onions with star anise until really caramelised, de-glaze the pan 3 times and add everything together in the pressure cooker, cover with water and bring up to pressure on the stove, turn down to ½ heat and allow to tick over for 1 ½ hours.
Run cold water over the lid of the cooker to cool it down then pass the stock through muslin
Allow to settle over night, this way the fat will separate and you will be able to lift it off and use later
Reduce the sauce to flavour (you could add some SOSA gel crem hot if the consistency is not correct at the time of the flavour being correct)
Clarify the reserved lamb fat and blitz about ¼ of the fat to sauce back in with a hand blender.
To finish the dish
Roast the lamb skin side down and cook in the oven for 8 minutes then allow to rest
Slowly poach the cut pieces of potato in the remaining lamb fat until soft. Drain then pan fry on one side to finish
Caramelise the cauliflower in a pan on 1 side then place on a plate and cover with cling film to allow the cauliflower to cook, Season and serve with the reheated sauce and dressed wheat grass (suggest lemon juice, olive oil & salt)