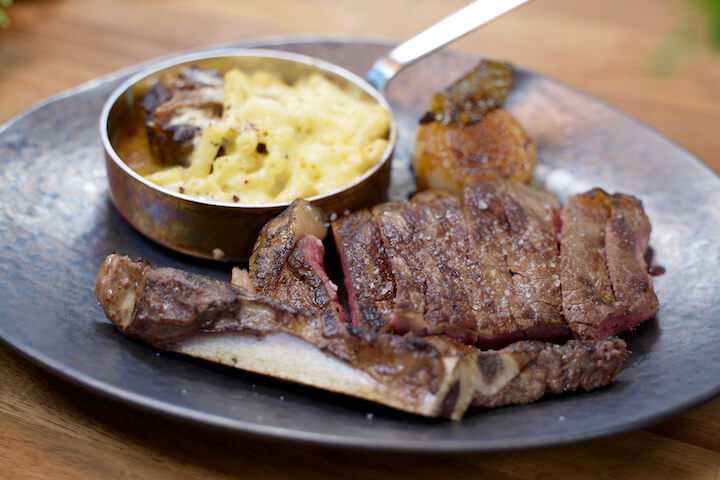 A great winter recipe ideal for pubs and restaurants looking to enhance their steak menu. This dish uses sirloin steak – dry aged by Campbell Brothers, cooked on a chargrill and served with a tasty oxtail mac and cheese and Roscoff onions. The oxtail requires pre-cooking the day before.
Slow-cooked oxtail
Ingredients (cook the day before)
10 Oxtail Pieces
1 Onion
1 Garlic Bulb
2 Carrots
4 Celery Sticks
1 Bay Leaf
6 Sprigs of Thyme
3 Sprigs of Rosemary
250ml Red Wine
300ml Beef Stock
Seasoning
Method
Heat a deep frying pan or oven tray.
Season the oxtail and seal in the hot pan until browned, then remove and set to one side.
Add chopped onions, garlic, chopped carrot & celery to the hot pan and colour well.
Then add the herbs, red wine and beef stock.
Add the oxtail and any juices to the pan, cover and slow cook for 4-5 hours until tender.
Once cooked, remove the oxtail and pass the remaining stock through a fine sieve into a clean pan.
Reduce the stock until a rich glaze is formed. Coat the oxtail. Use as required.
Dry-Aged Steak Bone-In
Ingredients
1 Steak – Dry Aged – Bone-In
Seasoning
Method
Preheat the chargrill and season the steak with salt.
Chargrill on each side for about 3-4 minutes and allow to rest.
Finish with freshly cracked black pepper and carve from the bone.
Serve with the Oxtail Mac & Cheese and Roscoff onion
Mac and Cheese
Ingredients
This will give you 10 individual portions
500g Macaroni
60g Butter
60g Plain Flour
650ml Whole Milk – Warmed
100ml Double Cream
280g Vintage Cheddar
Seasoning
Method
Cook the macaroni for 8-10 minutes, refresh and set to one side.
Melt the butter in a large pan and then add the flour and cookout to form a roux.
Gradually add the milk a little at a time and cook for 10-15 minutes until thickened.
Add the cream and 200g of the cheese, stir until melted, then season.
Mix the pasta with the sauce and place into individual ovenproof dishes with one piece of cooked oxtail and sprinkle with the remainder of the cheese.
Bake until hot and golden then finish with freshly cracked black pepper.
Roscoff Onions
Ingredients
5 Roscoff Onions
20g Rendered Beef Fat or Olive oil
100g Butter
4 Garlic Cloves
2 Bay Leaves
6 Thyme sprigs
50ml Chicken Glace
Method
Cut the onions in half.
Heat a deep frying pan and add the beef fat or oil then seal the onions until caramelised.
Add the garlic, thyme, bay leaves and continue to cook on a medium heat for 5-6 minutes.
Then add the butter and transfer to the oven and continue to cook for 20-25 minutes at 150c.
Remove from the oven and add the chicken glace to glaze then remove from the pan – Keep warm until required.