CB Reserve beef – rib eye steak grilled & served on roasted potato, salsify, rocket & radish salad, salsa verde dressing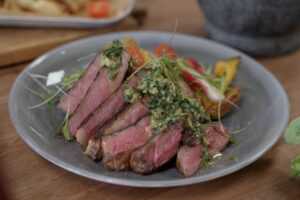 This recipe utilises fantastic, CB Reserve beef, dry aged in our himalayan salt wall chamber to add to the flavour of the meat.  The fresh seasonal ingredients paired with this recipe are all available to order from Oliver Kay.
Salsa verde
Ingredients
50g Flat Leaf Parsley
50g Basil
50g Mint
2 cloves Garlic Bulb
30g Capers
30g Gherkins
15g Anchovies
20g Dijon Mustard
30ml Red Wine Vinegar
100ml Cold Pressed Rapessed Oil
Method
In a food proccesor add the parsley, basil, mint and pulse until roughly chopped then add the garlic and continue to blend together.
Chop the capers and gherkins with the anchovies then add to a mixing bowl.
Add the herb and garlic mix and then stir in the dijon mustard and red wine vinegar.
Drizzle in the oil until combined and set to one side.
Roasted potato salad
Ingredients
200g Salad Potato 28-35mm
250g Salsify
180g Red Peppers
180g Yellow Peppers
2 Cloves Garlic Bulb
1 bunch Radish
30ml Cold Pressed Rapeseed Oil
2g Sea salt
0.5g Black pepper
150g Cherry Tomatoes On The Vine
30g Rocket
Method
1. Wash and 1/2 the potatoes lengthways then pat dry and place into a mixing bowl.
2. Add the salsify batons, red & yellow peppers, chopped garlic, radish, oil, salt and pepper.
3. Tumble them together and roast for 20-30 minutes until tender.
4. Remove from the oven and cool slightly then add halved tomatoes & rocket and mix gently together. Serve as required.
CB Reserve Rib eye steak
Ingredients
5 x 285g CB Reserve Rib Eye Steaks
10g Sea salt
1g Black Pepper
850g Potato & Salsify Salad
250g Salsa Verdi
15g Micro Herbs – Coriander / Mint
Method
1. Heat the chargrill and then season the steaks with salt and rub with a small amount of oil – Cook as desired – Medium rare is best for these. Finish with freshly cracked black pepper and allow to rest.
2. Plate the potato & salsify salad , top with the sliced steak , salsa verdi and fresh micro herbs.