Panko Crumbed Buttermilk Chicken Thigh Burger, Chipotle Dressing, Hot Chilli Maple Syrup, Red Cabbage Slaw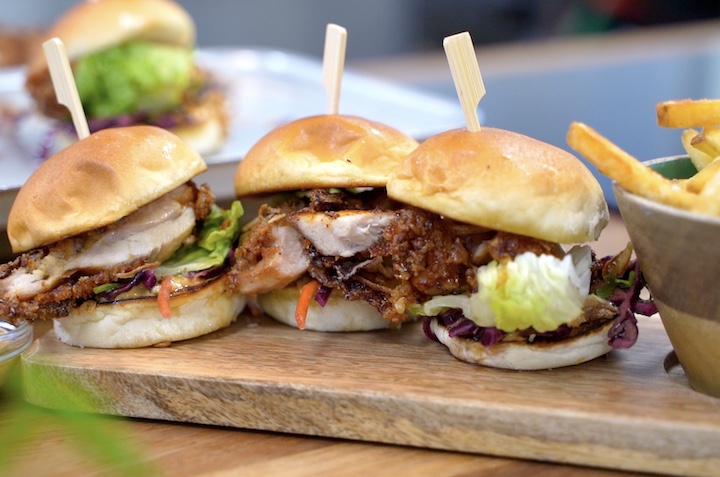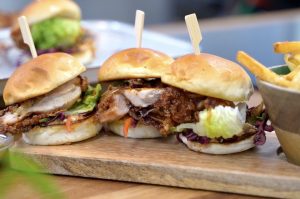 Serves 4
Prep time 12-15 min Cook time 18 min
Pickled slaw
200g Red Cabbage & Carrot Cole Slaw (dry)
1g Everyday Favourites Crushed Chillies
15g Tate & Lyle Fairtrade Caster Sugar
30ml Red Wine Vinegar
8g Coriander
1. Mix all the ingredients together and finish with chopped coriander- chill until required
Hot maple glaze
100g Everyday Favourites Pure Canadian Maple Syrup
10g Everyday Favourites Crushed Chillies
20g Tate & Lyle Fairtrade Caster Sugar
2g Smoked Paprika
1g Cayenne Pepper
1. Place all ingredients into a pan and bring to the boil, then simmer for 4-5 minutes until all the sugar has dissolved – Cool and place into squeezy bottle until required.
Panko Burger
4 Chicken Thighs – Skinless and Boneless
150g Buttermilk
80g Santa Maria Chipotle Paste
3g Maldon Sea Salt
1g Everyday Favourites Whole Black Peppercorn
100g Plain Flour
200g Panko Crumb
100ml Hot Maple Glaze
8 each Mini Brioche Burger Roll
100g Hellmann's Real Mayonnaise
1 Little Gem
1. Place the chicken thighs into a bowl and add half the chipotle paste , all the buttermilk , sea salt and freshly cracked black pepper and marinade for 2 -3 hours.
2. Mix the flour and panko crumb together and heat the deep fat fryer to 180c
3. Dredge the chicken in the panko mix and deep fry until cooked, then drizzle with the hot chilli maple syrup mix and cut into equal portions for the burger.
4. Toast the buns and spread with chipotle mayo , load with slaw, little gem and chicken then a finishing drizzle of hot chilli maple glaze.